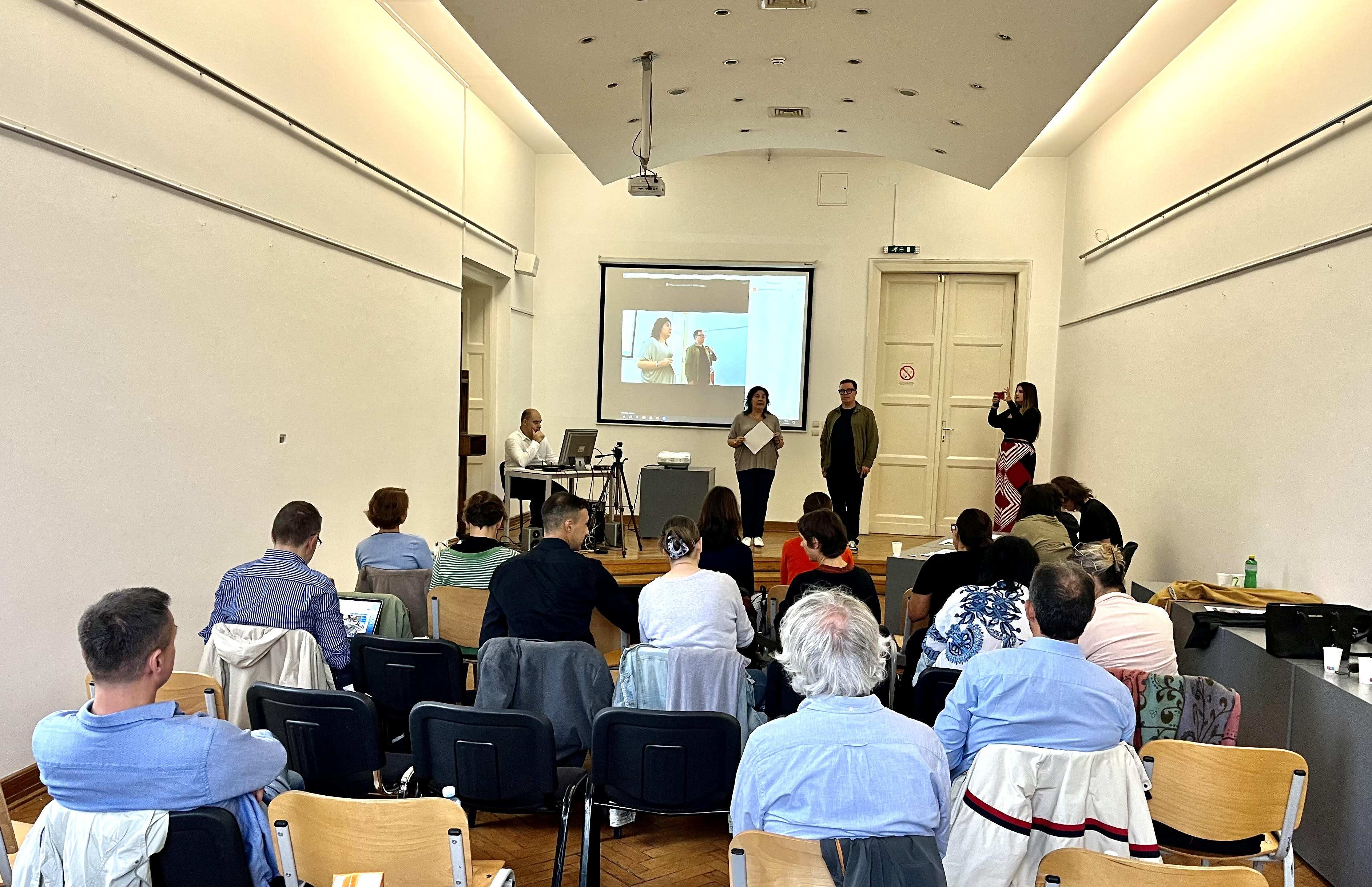 Within the COST Action CA18204 Dynamics of placemaking and digitization in Europe´s cities the meeting in Belgrade was organised as a part of the DOPMADE meeting that took place in Belgrade, Skopje, and Bitola.
Belgrade meeting entitled HISTORY OF SENSING THE PLACE AND PLACEMAKING was organised at the University of Belgrade - Faculty of Architecture, in the period from 25 th - 27 th of October 2023. In total 23 persons applied, and 20 persons from 16 different institutions attended the Belgrade meeting.
The meeting was opened by Prof. Dr. Ana Nikezić, Vice Dean for Science, and organized by Prof. Dr. Aleksandra Đukić, assistant. Dr. Jelene Marić, assistant. Dr. Branislav Antonić. 
On the first day of the meeting, the 25 th of October 2023, participants were introduced to the course structure of the Faculty of Architecture, alongside with the teaching methodologies and educational activities of the faculty. Afterwards, three main lectures regarding different approaches to placemaking in Serbia, from digital placemaking to placemaking regulations and actual placemaking practice were presented: (1) Digital Placemaking Based on social media / Dr Milena Vukmirovic; (2), Placemaking - case studies from practice and research / Ana Graovac and (3) Empowering Communities: Building Public Spaces Together / Milorad Obradovic.
After the lectures that took place at the faculty building, the meeting participants joined the organised Walking survey through historical centre and Belgrade on the Water, debating on the possibilities and challenges of Placemaking in Belgrade.
On the second day of the meeting, the 26 th of October 2023, the study fieldtrip was organised for all the participants to visit Golubac, a small city in the eastern Serbia with one of the famous medieval fortresses and rich local heritage. The group visited one of the placemaking sites at the Danube riverfront in Golubac, the good practice examples of a city park built by students from the Faculty of Architecture in Belgrade, as part of a Interreg DANUrB+ project. The project was presented in detail alongside with the project outcomes and deliverables that are strongly connected to the placemaking concept, by Prof. Dr Aleksandra Đukić, and two more lectures: (1) Placemaking in small communities - DANUrB+ Interreg project experience Aleksandra Djukic / Jelena Maric and (2) Atlas of hidden values / Branislav Antonić. After the lectures the group visited the reconstructed place of a Golubac fortress.
On the third day, the 27 th of October 2023, the Belgrade meeting lasted from 9.30 AM until 2PM. 
Discussions about gender issues in naming public spaces - continuation of the workshop in Koper (may 2023), was led by Isabel Maria Cruz Lousada and Igor Nedelkovski, and the discussion about the publications of COST Volume 1, 2 and 3 was led by Prof. Dr Carlos Smaniotto Costa. After the discussions the meeting was summarised and concluded by the organizers from UBGD. On the same day participants traveled to Skopje for the continuation of the meeting in North Macedonia.
DOWNLOAD PRESENTATION - PLACEMAKING IN SMALL COMMUNITIES
DOWNLOAD PRESENTATION - DIGITAL PLACEMAKING TOOLS FOR STRENGTHENING THE DEVELOPMENT OF TOWNS
DOWNLOAD PRESENTATION - ATLAS OF HIDDEN URBAN VALUES ALONG THE DANUBE – FROM ANALOGUE TO DIGITAL VERSIONS
DOWNLOAD PRESENTATION - PUBLIC SPACES AND PARTICIPATION IN URBAN PLANNING